The Charming Cat Corner is the cats' home, and you are their guest. You don't need a reservation to visit. We have a few options for visiting: regular admission and by subscription. You can also arrange small group visits and parties.
Mon-Sat: 11 am - 7 pm Cat visiting hours end at 6 pm. Sun: Noon - 5 pm
Mon-Sat: 11 am - 5 pm Sun: Noon - 4 pm
30 min: $9.00 60 min: $12.00 Add 30 min: $6.00
Suggestions for Visiting With Cats
Wear clothing proper for a visit with animals likely to sit in your lap, ride on your shoulders, jump onto you, or walk up your leg for attention. Most of our cats are not declawed; the occasional use of a claw as they interact with you is not uncommon.

Always wash your hands. Cats have a heightened sense of smell compared to that of mere humans. They may decide your hand smells tasty or nasty and react accordingly. We have a handwashing station.

When you visit, you're renting time and space to be with the kitties, even if it's just to watch them nap, and they do a lot of that, especially in the late afternoon hours. Some are active for several hours after we open. Some are active all day long, and some are just perpetual nappers.

Quiet is how the cats like their home so please don't disrupt their peaceful atmosphere. We use background music that cats find pleasing. Our rooms are filled with classical music, especially Baroque. One exception is the Cosmos, which uses low frequency sounds for soothing the soul.

We cannot accommodate more than 30 people in our space at the same time, so we might ask you to wait a little while when you arrive. When it comes to allowing people in at a certain time or after waiting, visitors who have prepaid their visit online have priority.
Terms and Conditions of Visiting
All visitors 18 and older must sign our Notice of Release of Liability.

For any child 17 or younger, a parent or guardian must sign this form wih the exception for children who remain in strollers and do not interact with the cats.

No one may sign the form for any child who is not that person's legal responsibility. That child's parent or guardian must sign this form online or in person at our reception desk.

If you will not be acccompanying your minor children on the visit. you must sign and submit the form online and designate a individual you authorize to supervise your children. If this authorized indiviual is a relative, that person must be at least 16. If this authorized individual is not a relative, that person must be at least 18. This authorized individual must remain with your children for the duration fo the visit. In addition, identification will be required and verified.

Be advised that no more than two children eight years old or younger may be on the premises at the same time.
Notice of Release of Liability
By entering The Charming Cat Corner, you accept full responsibility for any injuries or damages to you, your minor children, and/or any personal property, which may result from your visit, and agree to waive any claim that you might have now or in the future against the Charming Cat Cafe LLC and its shareholders, directors, officers, employees, volunteers, and agents for any injuries or damages you may suffer while visiting The Charming Cat Corner.
Wash your hands at the handwashing station provided.

Do not pick up the cats without permission and/or supervision.

Do not pull a cat's tail.

Do not stand on the furniture.

Do not climb the cat trees, walkabouts, or other furniture or features.

Do not touch the fountains.

Keep your children at arm's length and watched at all times. Supervise them closely.

Ask which sleeping cats are OK to pet.

Please keep cats off tables when food is present.

Do not make loud noises in the cat lounge areas.

Do not use flash photography.

Do not feed the cats.
When your visit includes children, we require one adult for every two children under the age of 15. Only parents or guardians may sign for a child under the age of 18. Be advised that rooms are monitored and recorded. In addition, we may livestream some areas. You accept that you will be on camera and recorded during your visit. These rules will be strictly enforced for the tranquility of the cats and visitors. If you or anyone in your party fails to comply or otherwise disrupts the cats or other visitors, we have no choice but to ask you to leave. There will be no refund. When you schedule your visit online, you may cancel your visit and receive a refund up until one hour before your scheduled visit.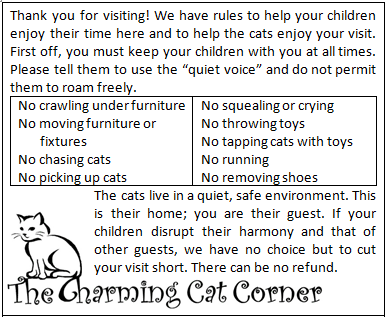 We're happy to work with you for group visits and parties. However, for the safety and welfare of the cats and their visitors, all our rules and terms still apply during these group visits and parties. We cannot close for private parties nor can we accommodate more than 30 people in our space at the same time. Exceptons can be made for children who remain in strollers and do not interact with the cats.
We are able to accommodate groups of visitors on a limited basis. Because we allow only 30 people into our space at the same time, we urge you to call ahead for groups of 10 or more. If you do not, there is no guarntee that we will have the ability accommodate your group even if space is available. Please do not just show up and expect to enter. All children coming in with a group must be signed in by a parent or guardian.
We often receive requests to reserve our space for privatte parties. We have limited hours when we can accommodate a private party in one of our rooms. Once again, we enforce our limit of no more than 30 people in the space at the same time. The days and hours for accommodating private parties are as follows:
Monday through Friday: For one hour minimum from noon and 6:00 pm

Sunday: For one hour minimum from 1:00 pm to 4:00 pm

Saturday: We cannot accommodate private party or event reservations on Saturdays
We cannot close The Charming Cat Corner for private parties. We can set aside one of our rooms for you, making it unavailable to other visitors. You may ask us to set up tables, extra chairs, or special music for your party in the reserved room, but the remainder of our space will be shared. There is a reduced rate for planned parties. This rate will be explained when you inquire. In addition, there is a set-up and clean-up fee when we must provide extra services such as tables and chairs, special music, etc. Reservations must be made at least one week in advance of your party. At that time, we may require a deposit if your group includes more than 10 people, including children. The deposit cannot be refunded if the reservation is canceled within 48 hours to the reserved time of the party. Please phone 972-315-CATS (2287) to inquire about private parties.
We've made it easier for you to visit us as often as you like! Subscribe to our Admissions Subscription program. We offer two subscriptions in the program: monthly and yearly.
Monthy for Individual: The monthly subscription fee is $45.

Monthy for Family up to 4: The monthly subscription fee is $70.

Yearly for Individual: The yearly subscription fee is $450.

Yearly for Family up to 4: The yearly subscription fee is $700.
A subscription gives you unlimited access to our public areas during the course of the subscription, until it expires or is terminated. Come as often as you like. Stay as long as you like. These subscriptions are available to individuals and families. Subscriptions apply only to admissions, not to merchandise or other purchases. In addition, these subscriptions are not available in combination with other discounted plans or offers. Subscription fees are non-refundable and not transferable. We have a limited number of these subscriptions available. To find out more, call us at 972-315-CATS (2287).